Privateer Press
has begun unveiling some of the mechanics of their upcoming tabletop RPG
Iron Kingdoms: Full Metal Fantasy
, including a two page pdf preview.
From their site:
"

With the

Iron Kingdoms Full Metal Fantasy Roleplaying Game

pre-release just around the corner, we're beginning to unveil elements of the book's content and mechanics. Today, I'll be giving you a bit of insight into the combat mechanics, what makes them stand apart, and how they bring to life the heroic action you see throughout the Iron Kingdoms fiction."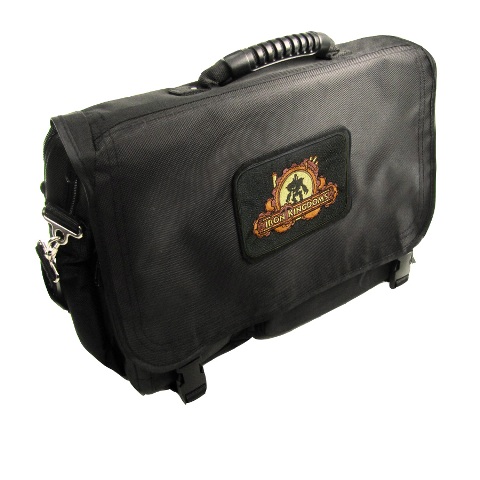 And what better way to carry all your brand new Iron Kingdom: Full Metal Fantasy books and other paraphernalia than in the awesome, and gorgeous, Battle Foam messenger bag. When I first saw this, my initial thought was "Oh look an over-priced messenger bag with an Iron Kingdoms patch..." But no, this bag is unique because it is built with the gamer in mind. It has many features that make it ideal for bringing all the things you need to your gaming session, including a pocket with a foam tray to store all your minis. Be sure to check it out!
---
Geek & Sundry
has announced they are partnering with
Target
to make games that are featured on Wil Wheaton's
TableTop
more accessible. If you haven't seen any of these you are missing out, in fact as soon as you are done here go watch them. All of them!
From Geek & Sundry:
"
We love local game shops, but we know that not everyone is fortunate enough to live in a city that has one. That's why this partnership with Target is so exciting—for those of you who aren't able to find your favorite TableTop games locally, you can now find TableTop-approved titles on Target store shelves near you!"
---
Cubicle 7
made two exciting announcements this week:
First: "
We are delighted to announce that today, the 1st of August 2012 is the day the new Eleventh Doctor Edition of the
Doctor Who: Adventures in Time and Space
RPG hits store shelves across the world. It's been a long time coming, and we are all very excited to get this game into your hands. We hope you enjoy the new 'deluxe' box, the all new Eleventh Doctor layout, the new character sheets and gadget cards. There's even a special piece of cardboard inside the new box which, when removed, will allow your story points to fit back into the box with ease!"
I am very excited to see what this "
special piece of cardboard" is all about!
Second, for their The One Ring RPG, they have announced the soon to be released L
oremaster's screen and Laketown Sourcebook.
From the announcement:
The Lake-town Sourcebook presents this fascinating setting in detail, including:
A guide to Lake-town, its inhabitants and culture
More information on the Long Marshes and the creatures dwelling within
New Fellowship Phase activities
A new playable culture – Men of the Lake
Also included in this product is the heavy-duty card Loremaster's Screen, which presents useful information for easy reference during a game and features stunning art from The One Ring artist Jon Hodgson."
---
In other Middle-Earth gaming news,
Ares Games
continues their
Design Diary for their War of the Ring Second Edition expansion, Lords of Middle-Earth. And, Fantasy Flight Games has released info on some of the player cards for their first Saga Expansion for The Lord of the Rings: The Card Game,
The Hobbit: Over Hill and Under Hill.
From their site:

"
My first assignment at Fantasy Flight Games was to create a list of player cards for the The Hobbit Saga Expansions. It felt like I had just won the lottery. Growing up, The Hobbit was my favorite book. I found it in my school library when I was in the 3rd grade and read it five times before learning that there were more stories that took place in Middle-earth. I couldn't believe what an amazing world I had stumbled into – full of giant trolls, talking spiders, hordes of goblins, and a fire-breathing dragon. Bilbo's world was an awesome and scary place, yet the heroes of his story were able to overcome each obstacle on their journey with the help of powerful allies, magical items, and incredible luck. And those were the things that I wanted to bring to life in The Hobbit Saga Expansions."
---
Also from
Fantasy Flight Games
comes two previews of their upcoming expansions to
Star Wars: X-Wing
.
The X-Wing Expansion Pack
and the
TIE Fighter Expansion Pack
From their site:
"As we gear up toward the action, we'll head deeper into our previews of the game's upcoming single fighter expansions. Each single fighter expansion introduces a single, finely sculpted miniature starfighter, along with its maneuver dial, requisite tokens, new upgrade cards, and several ship cards, including unique and talented pilots only available in the expansion."
---
Green Ronin Publishing has released the
DC Adventures Quickstart: Batman vs. Bane. Like their previously released Quickstart: Superboy vs. Knockout, Batman vs. Bane provides a sampling of what the game is like without giving away all the secrets.
From their site: "
This free Quickstart PDF includes everything you need to use the award-winning Mutants & Masterminds rules to play out a combat encounter between Batman and Bane (other than a twenty-sided die, that is). Try out the game system, use this to introduce new players to DC Adventures or Mutants & Masterminds, or show it to the owner of your local game store, book store, or comic shop. However you want to use it, it's free, so download it today."
---
And finally,
Bonsai Entertainment
has set to release their new card game
Ruse
later this month. Using a customized deck of cards, this game pits players against one another in a game of deceit and trickery.
From their site:
"A murder has been committed in the Victorian Steampunk city of St. Sebastian. You have made the short list of Police suspects and the only way to retain your freedom is to prove that one of the others on the list is in fact the murderous culprit."
Until next week!