Are you familiar with
Kickstarter
? If you're not, you should be! This is a "funding platform for creative projects" and is an excellent way to support the people whose passions you share, while also discovering and often being the first to receive these projects when completed.
While there are many great categories to check out (art, music, film & video, technology, etc.), this is a game site so we're going to focus on games! We can't support every great idea out there ourselves, but we can spotlight one or two a month that we feel are worth checking out based simply on their Kickstarter description. This month's picks include blended kittens and analyzing your friends, check 'em out!
Lori's Pick: Kittens in a Blender
I'm a self professed cat person but I laughed out loud at the premise of this game and kept coming back to it as I scrolled through the various board & card game offerings. Maybe my cat should feel a little less sure of herself from now on...
This is a card game that seems quite simple to play and yet I can see the appeal of the gameplay, especially when a quick game is needed. The goal is to move your kittens from the countertop to the box while your opponent is trying to shove your kittens in the blender (as you do the same to his). When the blend cards come into play, the kittens in the box are safe while the ones in the blender get, well, blended. Kitty smoothie anyone?
The twisted humor and the potential hilarity makes this card game one that I would want to keep in my bag along with the Zombie Dice. Kittens in a Blender sound like a winner to you? Check out their Kickstarter page and make a pledge. I did!
"This project will only be funded if at least $15,000 is pledged by Sunday May 13, 2:59am EDT."


Ben's Pick:

Off Your Rocker: The Party Game of Quirky Insanity!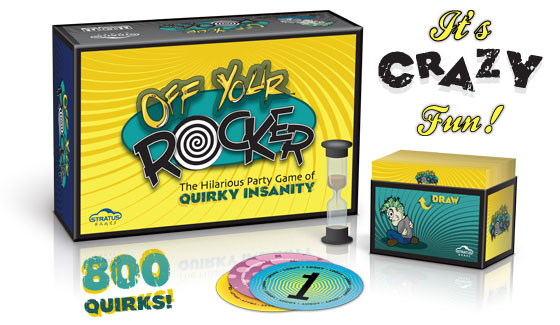 There are so many great games on Kickstarter that it can be tough to pick one for something like this, but after watching the preview by
Tom Vasel, from The Dice Tower
I could totally picture playing this game in so many different situations. Whether it was with friends, family or even as an ice breaker, this game looks too hilarious. The game works like this; one person is selected to be the "psychiatrist" while the rest of the group are the "patients." The shrink leaves the room and the rest of the group selects an issue from one of the cards, the example in the promo video is they all think they are stuck in a bottle, the shrink asks them all questions and tries to guess their "issue" before the timer runs out. If the shrink succeeds he gets a point, and the "patient" with the most clever answer gets a point. I think this game has a lot of potential and I think it would something worth supporting. As of this writing the game has a little over 3 weeks left to go, so if it sounds like your kind of game log in to Kickstarter and back it.
"This project will only be funded if at least $10,000 is pledged by Monday May 21, 10:00pm EDT."